PICTURES UNPUBLISHED OF MAURICE AND THE FATHER AND GRANDPARENTS OF CARVER´S "RED LADY", THAT NEVER BEFORE WERE SEEN IN PUBLIC. (Gratefulness and tribute  to title posthumous to Mr. Tom Robinson).
<![if !vml]>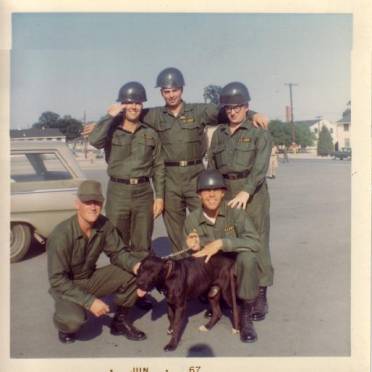 <![endif]>
Tom Robinson made kneel in the left part of the picture with his companions Marines USA and his APBT Tom´s "Big Black" (Carver) bred by Maurice Carver.
Tom Robinson of the hand of Maurice Carver, with his dog Big Black, contribute many benefits for the breed. Thank you very much Tom.
<![if !vml]>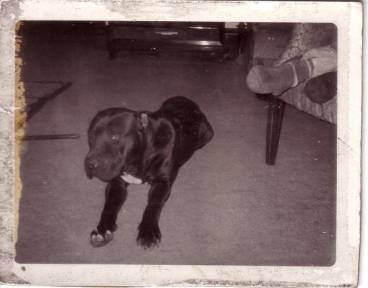 <![endif]>
Tom´s "Big Black" (Carver)  contribute very good descendants in the breed, like for example the great one and famous by his hardness CARVER RASTUS, CARVER'S BIG MAMA, CARVER'S LITTLE POLLY, among other many good and fine APBT in addition to already named CARVER´S RED LADY whose proprietor was Mr. Enrique Morfin who peacefully rests and from this great dog they descend most of the existing APBT in Mexico of the present time.
<![if !vml]>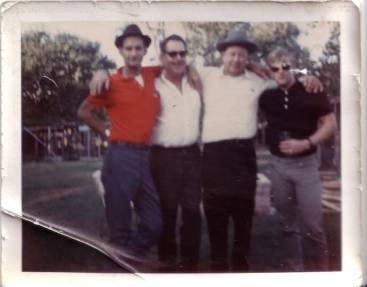 <![endif]>
To the right with black shirt Tom Robinson together Bert Clouse, in the center with glasses Maurice Carver together Andre Giroux. Tom was very good friend of Maurice, of his circulate closed and total confidence.
<![if !vml]>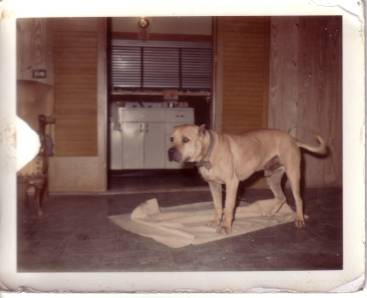 <![endif]>
Carver´s Cracker in the Maurice´s home.
<![if !vml]>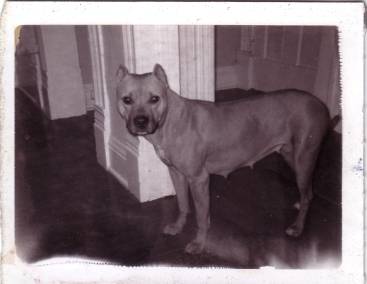 <![endif]>
Carver´s "Judy" in the Maurice´s home.
"Judy" is sister of the same litter of CARVER'S BLACK WIDOW
<![if !vml]>
<![endif]>
Drawing made by Tom Robinson in where we can see several dogmen and dogwoman, among them, to Pat Carver the first woman raised in the left side of the Drawing and to Maurice Carver the first seated man beginning by the left with glasses. The first raised man, beginning by the right and that is yawning, is Bert Clouse. Floyd Boudreaux.is in the center, seated, wearing a blue shirt and resting his head on his hand. The man standing on the far right wearing a red shirt looks like Andre Giroux. The rest people is not known to me. If somebody identifies some of these people, I would be been thankful to you if you send to me this information in order to share it in this place with all fans: villaliberty@villaliberty.org or fiapbt@fiapbt.net
<![if !vml]>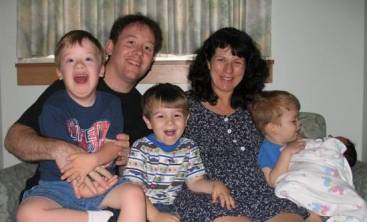 <![endif]>
Jason Robinson (Son of Tom) and his wonderful family.
Thank you very much Jason, by these extraordinary and unpublished photographies and histories that you told me of the relation of your dad with Maurice.
Mariano Peinado
This place is part of the section of Villa Liberty titled "GENETIC OF THE LEGEND TO CALLED" MAURICE CARVER" AND TRIBUTE."     
TRIBUTE TO MAURICE CARVER BY VILLA LIBERTY KENNEL in video.
--------------------------------------------------------------------------------------------------------------------------                 
If you know histories or you have familiar photographies of APBT related to Maurice Carver, I would appreciate much if you sent to me it for open a place inside of the section of the Tribute to Maurice and in this way, to be able to enjoy all the fans those photographies since the Web Site of Villa Liberty kennels.
Thanks to all for to visit us and I hope that you enjoy.
      Mariano Peinado